My husband Richard needed a new car. He loved his Toyota Insight, a gas sipping hybrid electric vehicle that he had put 185,000 miles on over 5 years, mainly driving back and forth to our one room cabin in Southwest Virginia. Given the rugged driveway up to our mountain getaway, he wanted a car with more heft. Furthermore, we wanted a vehicle with more space since he and I are planning a road trip to promote the September 1st release of my memoir, A Good Spy Leaves No Trace: Big Oil, CIA Secrets and A Spy Daughter's Reckoning.
The book ties my career in clean energy to an investigation of my father' life, a man I didn't really know. Turns out my dad was on the ground floor getting the U.S. hooked on cheap middle east oil and I have been working for the past twenty plus years on just the opposite. My career has been focused on promoting the alternatives to guzzling fossil fuel in our cars and trucks – biodiesel, ethanol, natural gas, propane, electricity and, of course, fuel efficiency.
Thus, it is important to me that the vehicle we use to tour around promoting my book NOT be a conventional gasoline vehicle. I want to practice what I preach and thankfully my husband is game to go along with me.
It niggles at my consciousness that the cars and trucks we drive are the number one source of climate changing greenhouse gases. According to the EPA, transportation is responsible for a whopping 29% of greenhouse gas emissions, the carbon dioxide that is flooding our atmosphere and threatening our future.[1]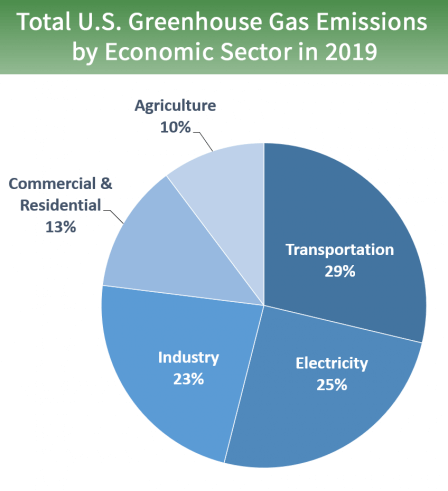 For the kind of traveling we are looking to do it is challenging to find the perfect vehicle. My first choice would be an all-electric vehicle. EVs are fun to drive! They are powerful with lots of torque and much more efficient to operate than a car with an internal combustion engine. Plus, they have zero tail pipe emissions. In addition, as the electric grid is increasingly powered by renewable sources such and wind and solar, an electric ride will just get cleaner.
At this point in time though, electric vehicles are just not roomy enough to accommodate all the stuff we will want to travel with: camping gear, music equipment and the books I intend to sell. In a couple years this will change with the introduction of several pickup trucks coming on the market. The iconic Ford F 150 will be all electric in 2013, joining Tesla's Cybertruck and startups such as Lordstown Motors and Rivian, some of whom plan to have vehicles rolling off the assembly line later this year.[1]
I know how much fun it is to drive an EV because I currently own a Chevrolet Volt. I purchased it new in 2012 to share with my son Rio who lived in Boone at the time, but that is a whole other story. The Volt, for those who may not know, is unique in the car world because has a fully electric drive vehicle that can go up to 50 miles on electricity than seamlessly switch to gasoline for another couple hundred miles. It is a great commuter car for going back and forth from Carrboro to NC State University, where I work, but it's not practical for long road trips since its fuel economy is only 34 MPG on gasoline.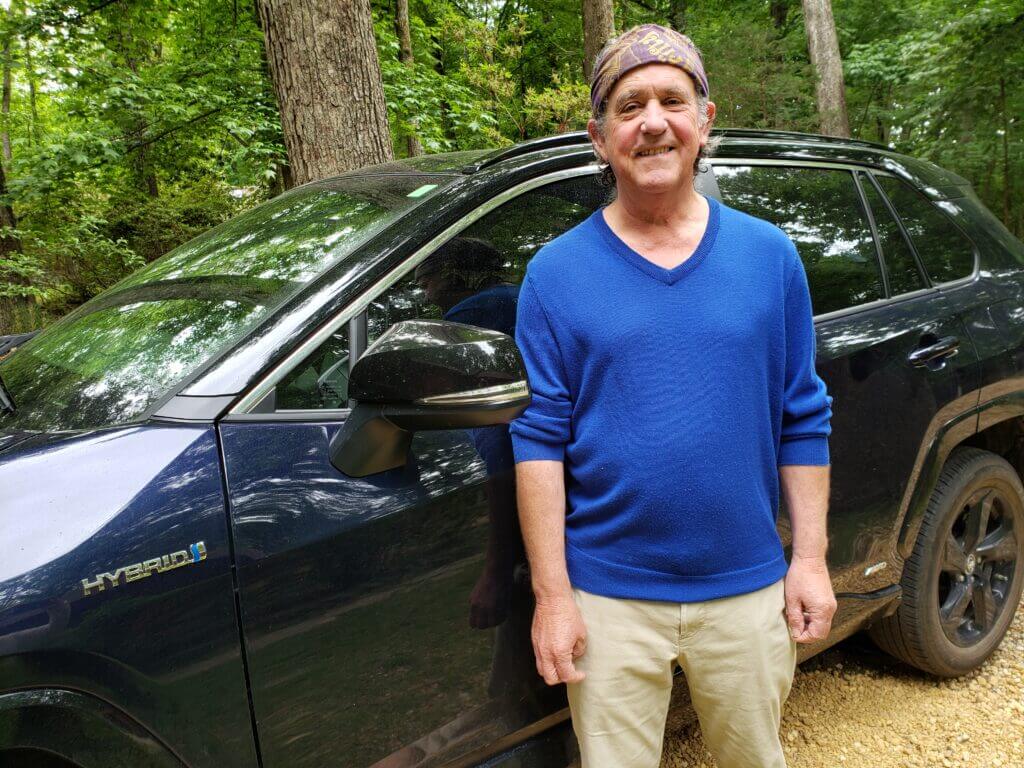 I did a comparison of Richard's and my two existing vehicles, the Chevy Volt and Honda Insight with the car we had suddenly fallen in love with and ended up purchasing a couple weeks ago. It is a 2019 AWD RAV-4 XSE Hybrid. Yes, it still runs on gasoline but for its heft and inside spaciousness it still gives us 40 MPG. It handles the driveway up to our cabin no problem and thanks to a remodel of the interior in 2019, offers more space for our gear than older RAV4.
There are some excellent on line resources that can help conscious car buyers that want to go green and potentially save green (as in dollars)
The following is the comparison of our vehicles from the U.S. EPA Green Vehicle Guide.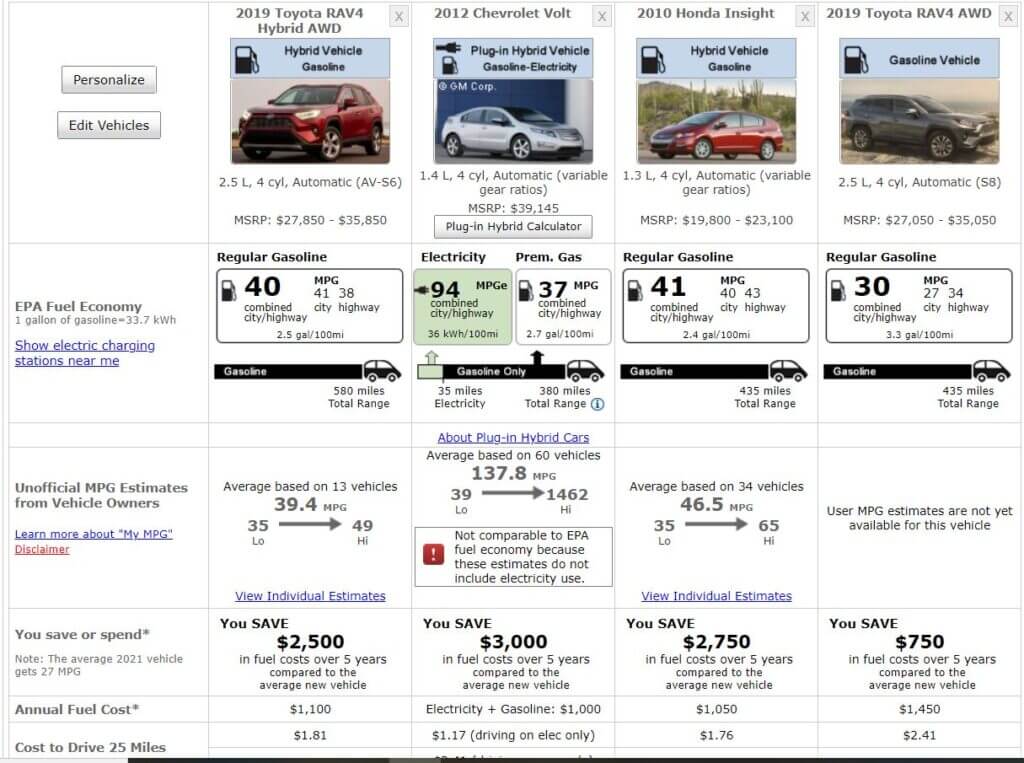 The U.S. Dept. of Energy also has its own very useful on line tool for comparing new and used vehicles fueleconomy.gov. I was happy to see that the RAV4 Hybrid we purchased rates a 9 out of a possible 10 points for its greenhouse gas emissions of 205-237 grams of CO2 per mile. To put this in perspective the most polluting vehicles emit almost 4 times the GHG per mile.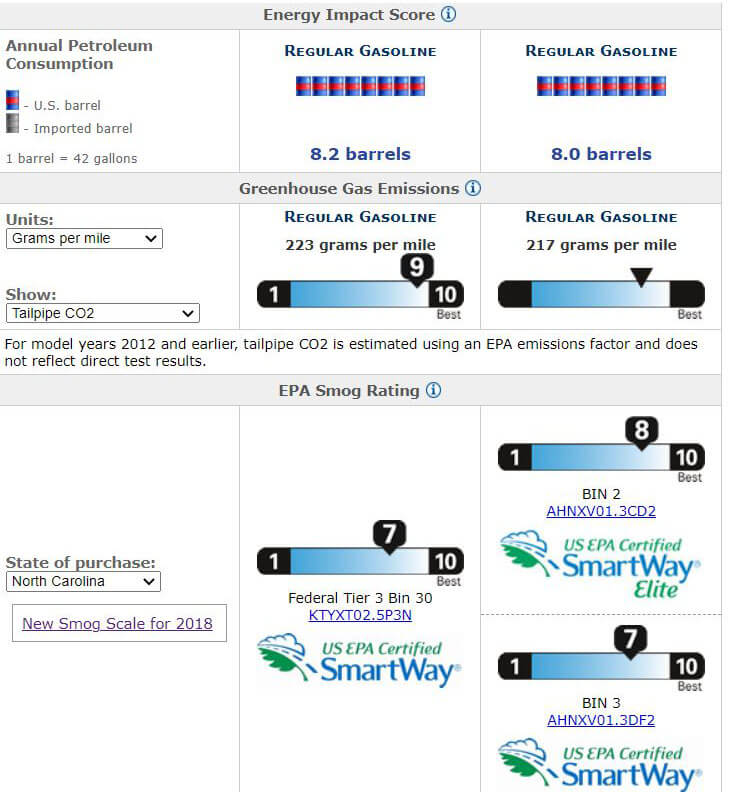 By buying green you will also in be saving green. Althought he RAV 4 Hybrid comes with a $2,400 price premium as compared to the regular RAV 4, the EPA Green Vehicle Guide says that I expect to save $2,500 over 5 years driving an annual 15,000 miles as compared to the average vehicle on the road today that gets 27 MPG. Check it out at www.fueleconomy.gov![1]
The RAV4 Hybrid carries a $2,400 price premium over a regular RAV4 of a comparable trim level. But keep in mind that hybrid models come standard with AWD while regular models come standard with FWD. If you compare a hybrid model to a gas-only AWD model of a comparable trim level, the hybrid is only $1,000 more expensive[2]
Go Green and Save Green with your next vehicle!
---
[1] https://www.fueleconomy.gov/feg/Find.do?action=sbs&id=41307&id=31618&id=26366&id=41127
[2] https://www.motortrend.com/cars/toyota/rav4/2020/toyota-rav4-vs-rav4-hybrid/
---
[1] https://www.caranddriver.com/news/a29890843/full-electric-pickup-trucks/
---
[1] https://www.epa.gov/ghgemissions/sources-greenhouse-gas-emissions